https://www.rt.com/usa/362705-sanders-asks-obama-halt-pipeline/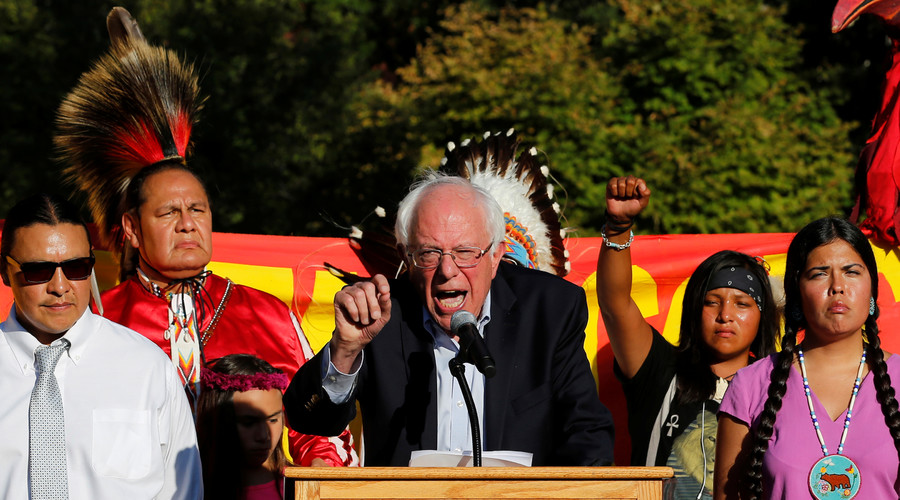 Vermont Senator Bernie Sanders, along with four other Democrats, asked President Obama to halt construction of the four-state Dakota Access pipeline until a full environmental review has been completed. "We will not survive if we continue to destroy nature," he said.
"In light of the decision of the Court of Appeals for the DC Circuit to reject the Standing Rock Sioux Tribes's request for a temporary halt to construction, the project's current permits should be suspended and all construction stopped until a complete environmental and cultural review has been completed for the entire project," wrote Senator Sanders (D, Vermont), joined by four Democratic Senators Patrick Leahy (Vermont), Dianne Feinstein (California), Edward Markey (Massachusetts ) and Benjamin Cardin ( Maryland) on Thursday.
On October 9, a federal appeals court dismissed the Standing Rock Sioux tribe's request for a permanent injunction to stop the project. A day after the decision, the Obama administration, the departments of justice, interior, as well as the army, issued a joint statement refusing to authorize construction along part of the proposed route pending a review.
Sanders' request for an environmental review would likely delay the pipeline which the Dallas-based Energy Transfer Partners hopes to complete by the end of the year.
Hundreds of Native American tribes have joined the Standing Rock Sioux Tribe in North Dakota to protest against the pipeline's encroachment on sacred lands. The tribe said the pipeline is less than a mile upstream from the reservation and said it would impact drinking water and disturb sacred sites.
The $3.7 billion Dakota Access Pipeline, measuring 1,170 miles when finished would transport 470,000 barrels of oil a day across four states.
Sanders said he applauded the administration for taking action to deny the authorization of construction on Army Corps-owned land and under Lake Oahe pending a review and "with government-to-government consultation with the tribes," but he was aware Energy Transfer Partners was committed to completing construction despite the request from the Justice Department for a voluntary halt to construction around the lake. The Dallas-based company resumed construction Tuesday on private land in southern North Dakota.
"[Not] unlike the Keystone XL pipeline, the Dakota Access will have a significant impact on our climate," wrote Sanders. "According to Oil Change International, the Dakota Access pipeline would have the same impact on the planet as adding 21.4 million more cars to the road, or 30 new coal plants."