https://www.rt.com/usa/423159-martin-luther-king-anniversary/
Day the dream died: 50 years on from MLK assassination (VIDEOS)
Wednesday marks 50 years since Dr Martin Luther King Jr was gunned down on the balcony of the Lorraine Motel in Memphis, Tennessee.
A passionate orator, King's distinctive voice captivated audiences in the United States and around the world. As one of the most visible leaders of the civil rights movement, he strove to end racial segregation and used the tactics of non-violence and civil disobedience to further the cause of workers' rights.
He was in Memphis supporting striking sanitation workers the day he was murdered, April 4, 1968. The previous night he'd given a rousing speech to the workers in which he proclaimed, somewhat prophetically: "Like anybody, I would like to live a long life. Longevity has its place. But I'm not concerned about that now…. I've seen the promised land. I may not get there with you. But I want you to know the night that we as a people will get to the promised land."
In as much as King's rousing speeches inspired hope in his followers, they also instilled fear and suspicion in his enemies. Then-FBI Director J Edgar Hoover infamously ordered agents to wiretap King's home and office phones. He also asked for listening devices to be planted in his hotel rooms as he crossed the country.
King was subject of an investigation by the FBI's Counterintelligence Program (COINTELPRO) at the time of his death. He was monitored by both the CIA and NSA. This would later be used to cast doubt on the case against the shooter James Earl Ray and to speculate about possible collusion between elements of the US government and the assassin.
Ray initially confessed to murdering King but recanted his testimony shortly after being handed a 99-year prison sentence. Ray's lawyer had convinced him to enter a guilty plea in order to avoid a trial that would likely have resulted in him being given the death sentence. A 1976 Senate investigation concluded that Ray probably had accomplices but said there was "no convincing evidence of government complicity in King's assassination."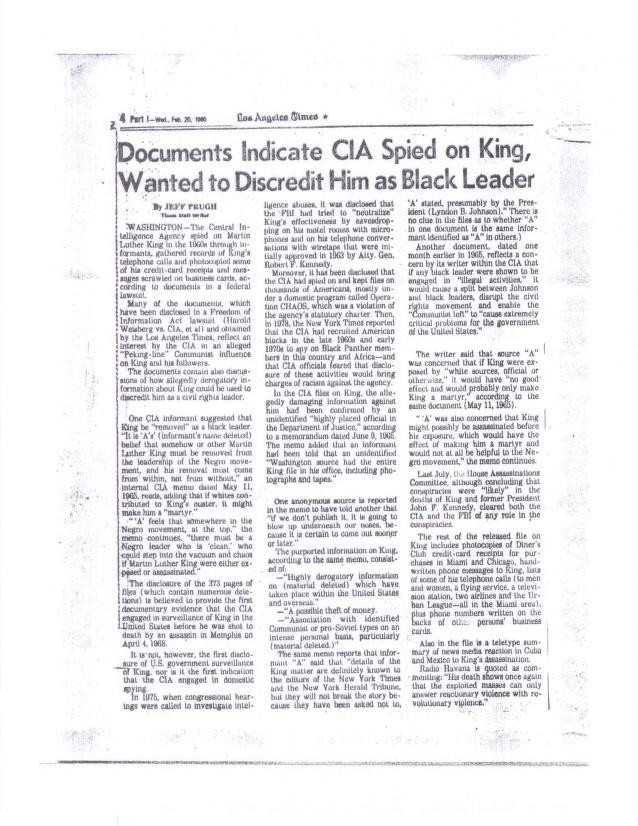 Here, RT.com takes a brief look at the civil rights leader's most iconic moments.
1963 I have a dream
King's most famous speech took place in 1963 on the steps of the Lincoln Memorial in Washington DC. In front of 250,000 people assembled on the Washington mall, King described his hopeful and inclusive vision for the country. "I have a dream that my four little children will one day live in a nation where they will not be judged by the color of their skin, but by the content of their character," he said.
"I have a dream that one day every valley shall be exalted and, every hill and mountain shall be made low. The rough places will be made plain, and the crooked places will be made straight. And the glory of the lord shall be revealed, and all flesh shall see it together."
The following year, King, aged 35, became the youngest man to receive the Nobel Peace Prize and announced that the $50,000 prize money would be used to advance the fight for civil rights in America. That same year, King's relentless pursuit of equality was bearing fruit. With civil rights atop the American political agenda, the 1964 Civil Rights Act was passed.
In 1965, King was in Alabama to take part in the infamous series of marches from Selma to Montgomery in support of voting rights. Despite a vicious reaction by Alabama authorities, particularly during the violent events after the demonstrators crossed the Edmund Pettus Bridge, activists were undeterred. Later that year, the Voting Rights Act was passed.
Assassination and manhunt
Three years later, King, then 39, lay dying after being shot outside his room at the Lorraine Motel, leaving his wife Coretta and four children to carry on his legacy. His death sparked riots in more than 100 US cities, resulting in the deaths of 40 people. Authorities launched a manhunt after identifying James Earl Ray, a 40-year-old escaped convict, as the assassin.
Ray was eventually caught two months later travelling on a false Canadian passport in London. Upon recanting his confession, Ray claimed to have been framed by a gun-smuggler he knew only as 'Raoul.'
His lawyer William Pepper campaigned to reopen his client's case, a push that culminated in a televised interview between Ray and Dr King's son, Dexter Scott King, in 1997. During the encounter, Dexter supported Ray's claim that he was innocent. Despite this, the case was not reopened and Ray died in prison the following year.
Conspiracy theories continued to gain traction even after the assassin's death. A Justice Department investigation conducted on behalf of the King family between 1998 and 2000 failed to turn up sufficient evidence to warrant a further investigation.
It's 50 years since Dr Martin Luther King died at the hand of a gunman. However, his indomitable spirit lives on, notably in his nine-year-old granddaughter Yolanda Renee King, who recently took to a podium to call for an end to gun-violence in the wake of the Parkland High School tragedy.
Like this story? Share it with a friend!
By David Fleming
Video Sergio Angulo