Thursday, August 31, 2017
Communist Party of Bangladesh (CPB): Condemns the atrocities against Rohingyas in Myanmar
https://communismgr.blogspot.com/2017/08/communist-party-of-bangladesh-cpb.html
The President of the Communist Party of Bangladesh (CPB) Mujahidul Islam Selim and General Secretary Md. Shah Alam strongly condemned the Myanmar army for committing genocide, arson and ruthless torture on Rohingyas in Rakhaine province through a statement to the press on 29

th

August.
The leaders said in the statement that inhuman attacks on Rohingyas have been resorted to brutal torture. Millions of people have fallen into a worst humanitarian catastrophe. Even though the Rohingya problem is an internal affair of Myanmar, but it has a seriously affected Bangladesh. Thousands of Rohingyas are taking shelter in Bangladesh to save lives. It is the primary duty of everyone to treat them with humanitarian attitude. But this is putting a serious negative impact on the economy of Bangladesh and it will continue. At the same time, using the Rohingya problem some communal groups, local and foreign conspirators are trying to implement their evil plot. Unholy activities of that evil forces posing fear of more serious consequences. Myanmar's government and its army are mainly responsible for this grave situation.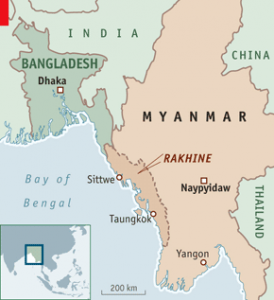 CPB leaders also said that the permanent solution to the Rohingya problem must be done by the Myanmar government itself. By accepting the truth that Rohingyas are citizens of Myanmar and in accordance with the recommendation of the Committee led by former UN General Secretary Kofi Anan, initiative should be taken to resolve the crisis. They said, it is necessary to organize strong UN initiative and global public opinion in this regard. CPB leaders called upon Bangladesh government to take immediate diplomatic initiative and other necessary steps to resolve this crisis. They also called for protection of life and human rights of Rohingyas and to remain alert about the conspiracy of vested interest groups.
Hasan Tarique Chowdhury, 
In-Charge of International Department.
Central Committee, 
Communist Party of Bangladesh.