Venezuela & ALBA News 2.12.2021: Congress Letter to End Sanctions; Ecuador rejects Neoliberalism; GAO Report on Sanctions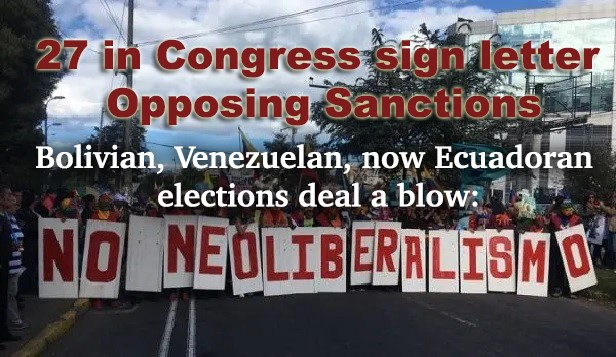 #SanctionsKill
Petition: Sanctions Kill Campaign: Tell the New U.S. Administration – End Economic Sanctions in the Face of the Global COVID-19 Pandemic
**27 Congresspeople sign Letter Opposing US Sanctions
Venezuela
CEPR: GAO Report Findings Show that Biden Administration Should Scrap Trump's Economic Sanctions That Have Killed Tens of Thousands of People in Venezuela, CEPR Co-Director Says
Resumen: The Latest News on Iván Duque and the CIA's Attacks on Venezuela
Ecuador
The Grayzone: How Ecuador's US-backed, coup-supporting 'ecosocialist' candidate Yaku Pérez aids the right-wing
Resumen: The Indigenous Arm of the Ecuadoran presidential campaign of  Arauz-Rabascall 
Cuba
Granma: Cuba will have a million doses of COVID-19 vaccines available in April
Granma: Some 15 U.S. cities request Cuban healthcare collaboration  including Oakland, San Francisco, Richmond, Sacramento, Detroit, Berkeley, Seattle, Cambridge, MA, Cleveland
Orinoco Tribune: Washington Openly Spent about $250 Million in Subversive Actions Against Cuba Since 2000
Open Letter to President Biden to Close Guantanamo 111 organizations sign letter to Biden
Bolivia
Anti Conquista: An Indigenous Voice Against Neoliberalism, Imperialism & Fascism: A Review of Volveremos y Seremos Millones By Evo Morales
Nicaragua
NicaNotes: Nicaragua, UN Climate Change conference, Climate Justice, and Reparations
Upcoming Webinars:
February 13: Trump has gone – time to end US sanctions on Cuba, Nicaragua and Venezuela
February 21: Close Guantánamo Now: A Call to Action
February 25: Recent Latin American Elections Repudiate US-backed Neoliberalism, with Alex Main of CEPR
March 8: Women's Voices from Central America: Hear from women from El Salvador, Honduras, and Nicaragua, countries heavily impacted by US foreign policy
To follow Venezuela, Nicaragua, Bolivia, Ecuador daily:
Friends of Sandinista Nicaragua
About the Weekly
It is AfGJ's conviction that we in the US defend Venezuela's sovereignty and recognize that the Bolivarian Revolution has improved the lives of its citizens, led the movement toward Latin America integration, and is building participatory democracy structures that are an example for us in the US as well. -AfGJ staff
Friends – we would like to include statements, events, and actions in solidarity with Venezuela. If you are aware of any or are planning any, please send them to us: stansfieldsmith100@gmail.com.
Receive the News from Venezuela Each Week- 
for the Venezuela Weekly!
Like What we're doing? Please Consider making a Donation!
Contact Us
Alliance for Global Justice
225 E 26th St Ste 1
Tucson, Arizona 85713-2925
202-540-8336
afgj@afgj.org